By Team Kalkine, as published on Kalkine Media, October 19, 2020.
Summary

Leading Australian transport logistics services provider, Orcoda Limited (ASX:ODA) has released its activity report for the quarter ending 30 September 2020.
The Company reported increased receipts from customers, cash flow positive Transport and Resource divisions and a better cash burn for the quarter.
Orcoda also researched and developed several new products over the quarter and continued to improve and innovate its contracting, management and software solutions.
Orcoda continues to develop opportunities within each division despite the pandemic setback.
Leading Australian transport logistics solution provider, Orcoda Limited (ASX:ODA) shares soared 66.7% to $ 0.165 following the release of an impressive quarterly update on 16 October.
Orcoda shares are up 21.2% to $0.200 mid-day on 19 October.
In the latest Annual Report for FY20, Chairman Nicholas Johansen commented that despite the challenges of COVID-19, the transport logistics service provider is "back in a growth phase again with sales forecasts for the coming financial year for the three Australian divisions, Healthcare Logistics, Transport Logistics and Resource Logistics, all looking promising".
MUST READ: Objectives, Milestones and Outlook of Operational Efficiency Specialists, Orcoda Limited
The recent activity report released by the Company further justifies its strategic advancement in the financial year.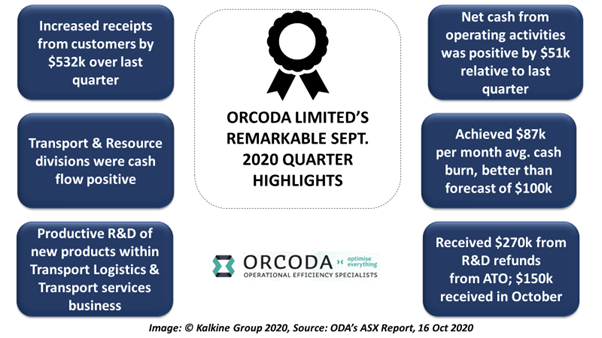 Impressive Financial Footing
Notably, the Transport and Resource divisions were cash flow positive for the September 2020 quarter. While the healthcare division had a minor cash deficit. Nonetheless, the Company increased receipts from customers by $532k over the last quarter, from $349k to $881k.
The net cash from operating activities depicted a good turnaround. It was positive for the quarter by $51k as against outflow of $612k in the last quarter.
Besides, the Company outperformed in terms of its cash burn stance. Shedding more light on this, Orcoda's performance was improved relative to the forecast of $100k per month cash burn. The Company achieved $87k per month (average) cash burn for the September quarter.
Orcoda was also granted $270k during the quarter from R&D refunds from ATO. This momentum has continued into October wherein the Company received an additional $150k.

As a part of COVID-19 cost-saving measures, Orcoda's MD, Chairman and a Non-executive Director opted to shun down their income by 50% for six months. Besides, another Non-executive Director chose to take his income to nil.
Latest With Orcoda's Key Divisions
The Company's combined applications concentrate on three major business segments: healthcare, transportation, as well as resources. Let us walk through the current stance of these divisions-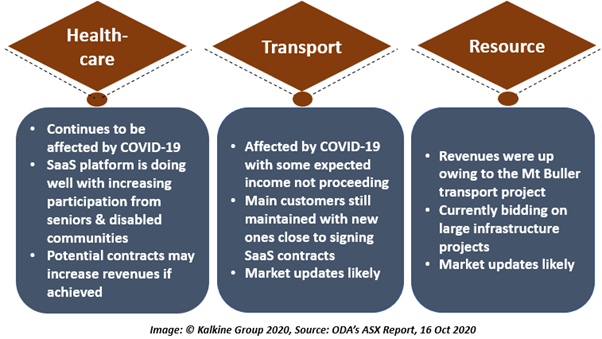 The Healthcare Division transports the Company's seniors and disabled communities. As the nation comes out of lockdown, Orcoda has bid out on some good potential contracts. These, if achieved, may propel a solid increase in revenues.
The Transport Division saw receipts from customers down from a year ago. However, the division was successful in maintaining its main customers while approaching new ones with current pilots likely to deliver long term contracts.
Besides, Orcoda also researched and developed numerous new products within the Transport Logistics and Transport services. Continuing R&D projects and programs reflect the transport division's potential to stay ahead of the field, eventually supporting Orcoda to improve and innovate its software solutions.

The Resource Division benefitted from the Mt Buller transport project, though the increased revenues were still down on forecasts owing to the COVID-19 problems in Victoria. However, many large infrastructure projects being pursued could be a great boost to this division.
Way Forward
Orcoda is continuing to develop opportunities within each division despite the COVID-19 setback. As per MD Geoffrey Jamieson, the Company continues to seek and develop other opportunities to grow and is reportedly looking forward to the future.
Orcoda also aims to look for ways to improve performance and cash flow to increase profitability.
As Mr Johansen says- "Together, we are forging a solid position in the competitive but rewarding world of logistics excellence."
Read more: https://kalkinemedia.com/au/stocks/technology/orcoda-limiteds-asxoda-shares-riding-high-following-resilient-september-quarter-report