Integrates technology and management expertise to process data into a real time digital platform providing safe, secure and optimised transport solutions for companies requiring asset and people transport management.
Orcoda's Healthcare Logistics is an innovative transport management solution which improves client outcomes through optimising transport services delivery. Using our technology and expertise, Orcoda can deliver the Transport functions of an existing provider as either fully outsourced subcontractor vehicles or your own managed fleet. Fleets comprising a mix of company and subcontractor vehicles are easily managed and are allocated on various priority levels. Our optimisation process provides a unique technical advantage when it comes to managing and deploying people, vehicles and transport services.
In-house Outsource Model
We join your in-house team to optimise fleet performance to substantially reduce your operating cost.
Increase Client Engagement
Our solution delivers far better outcomes to your clients, encouraging customer loyalty.
Optimised Transport Planning
Scheduling and route optimisation technology, ensures on time pick-ups and drop-offs and total supply chain transparency.
Watch Our Video
Providing the digital transformation for our customers by optimising transport and fleet operations to reduce costs and enhance compliance & safety.
Healthcare Logistics – Case Study

PROJECT: Community Transport

OBJECTIVES
Improve fleet utilisation
Reduce costs
Improve reporting
Improve customer service
ORCODA SOLUTION
Optimised routes and scheduling
Introduction of single device in field
for live reporting and communication
Automation of end-of-day reporting
Aggregation of information
OUTCOMES
Saving of

$1.75 million

through more
efficient use of existing fleet
Reduction in unallocated jobs saving up to


$7,560/day

in lost revenue
Increased visibility, safety and compliance
Improved service for customers
"The new ORCODA optimisation allocation solution will have an immediate and practical impact on the lives of the community members who can't drive or take public transport…We are fast approaching 200,000 trips annually and travel over two million kilometres each year. The ORCODA solution will allow us to grow more efficiently."
Terry O'Toole, CEO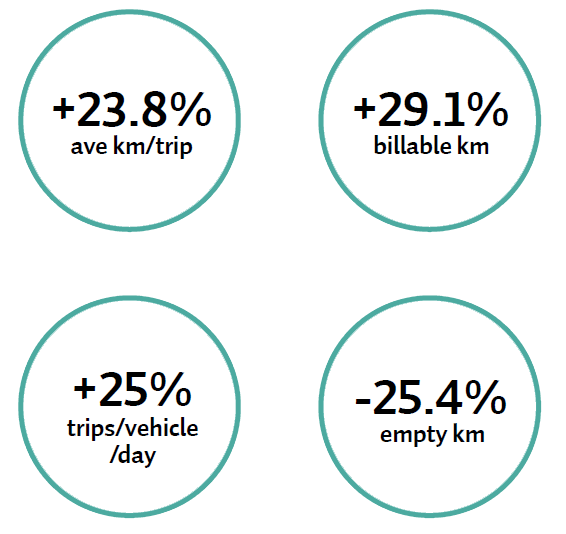 REQUEST A DEMO
Please fill out the form below to request for a demo.